Update: How to Login Hublaagram 2020 and Get More Likes
The
Hublaagram
site that provides free, follow & comment is now a support material for Instagram users to get lots of likes and free followers.
To increase the popularity of social media, not a few people use hublaagram as a shortcut to getting many followers and likes IG.
It was noted that India became the first ranked hublaagram user and was followed by the second in messir as an active hublaagram user.
For those of you who want to get a lot of Instagram followers, you can still use the Hublaagram site as an alternative way for your needs on social networks.
Hublaagram also provides servers for Facebook likes and followers. For those of you who are interested in other servers, you can read us previous article below.
Also read
— Learn about
How to Get more Likes on Facebook using Hublaagram
.
For those of you who want to use Hublaagram, you can follow step by step that I will share now.
NOTE — For Instagram account settings, please note before you follow this method, if before your Instagram account is private, please replace it with non-personal.
To set, open the Instagram application >
Setting
>
Account
>
Return to business account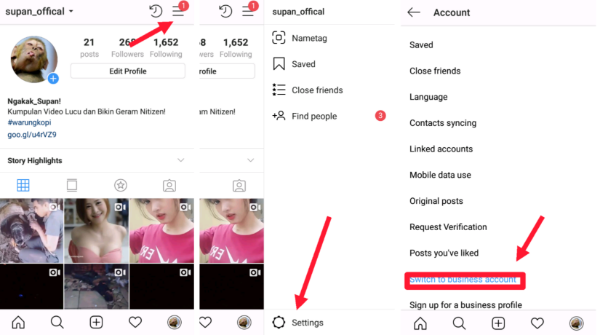 Login Hublaagram 2019
#Steap 1
— You must open the site address
https://hublaagram.me/
and fill in the data on the account ID name and password for your Instagram account
Download the support tool below, before login hublaagram.
Hublaagram is now converted into Application-Based Services. Get the Application and start using Hublaagram.
For web users, you can download the desktop version of Extensions.
Also read
— Learn about
How to Use Extensions Hublaagram
.
Steap 2
— Install the hublaagram application that you downloaded earlier, We are here using the Andoid version of the Hublaagram application.
Click >
Enter
> Your
@username
Instagram and Password > Login
If you successfully enter, then continue by clicking Open Hublaagram
#Steap 3
— If you have successfully
login Hublaagram
, you are provided with various servers that you can try for free.
Here we want to use Instagram auto comments, so we choose "
InstaCommenter
and click
Choose your Instagram photos to use Auto comments
Enter the comment word you want in the box column
Set the number of comments, a maximum of 30 comments.
Click >
SUBMIT
When you have finished setting it.
Wait for processing time, it usually takes around 15 minutes to work.
Success, auto comment on Instagram photos
Also read
— Learn about
How to Use more Likes on Hublaagram
.
#Steap 3
— Please choose according to your needs, for example you want to get a maximum of 50 likes Instagram every 45 minutes.
Installike — Get likes Instagram
Instacoment — Get Comment
Instafollow — Get Followers
About Hublaagram Service
Hublaagram is an Instagram application that helps you get likes, followers and comments for FREE, This website acts as an Exchange System.
You will get likes, follow, and comment from hublaagram members, and vice versa you will also give likes and comments to hublaagram members